SHIPPING CUSTOM WOOD STEPS & RAILINGS
We Ship into Ontario, Across Canada & into the United States
Shipping replacement hardwood steps and railings to various locations throughout North America can sometimes be a bit of a challenge, but having played with various modes of transportation we are getting pretty good at it.
The only thing we can't do is ship long lengths of handrail or long thin mouldings via UPS... they have a length limitation of 8' and will not handle gently enough long thin bundles that don't have 4" of padding in all directions. :)
Using international transport companies is not an option because they do not go into residential areas and not economically feasible unless you are a large shopping list... so here's what we can do!
Canadian Shipments: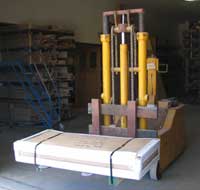 Shipping across Canada is of course the easiest as we can send them via standard LTL transport companies without dealing with cross border challenges and the complexities of home delivery.
We use Apex Motor Express and they have proven to be very reliable in transporting our custom wood steps and railings across the country, via highways in the east and effective use of the train to the west.
We like the ability to put all your steps in one package with the vital edges protected on the inside. Long lengths of handrail can be bundled in a separate pachage.
We have tried UPS and a number of other smaller package couriers but due to weight with-strictions per package a complete set of steps must be broken up into 3 separate boxes and leaves a lot of edges exposed.... AND doesn't save you the customer any money to boot!

"the steps are of superb quality. we are truly very happy with the quality of your product... and they arrived in perfect shape " Regards, P Strauss
Thus in the United States, where we don't have a better option, we wrap packages with many layers of cardboard for protection and use UPS, but in the case of Canadian shipments we typically palletize the steps and send them out with Apex Motor Express. For specifics on the following locations check out these links.
Flat Rate Shipping Rates for Railings & Stair Treads: Ontario
Stair Tread Shipments to the United States:
As suggested earlier shipping to the United States is a little trickier, but we have it down to a fine art now, using UPS, a good local broker and alot of cardboard.
Customs Brokerage:
Every shipment that goes into the United States must have special customs & excises tax papers that go along for the ride. We prepare what we can here at Lacasse, but someone must file them correctly at the border.
The advantage of using UPS is that they have their own brokerage arm and can shuffle paper to comply with US customs at a fairly economical rate (compared to large trucking companies). Typically there is no charge for shipments under $200.US and $10-35. for shipments valued up to $2,000 (a typical set of replacement stair treads) It makes it very cost effective for you the customer and you don't get dinged with a huge customs bill when they show up at your door.
US Home Delivery:
The second advantage of using UPS is that they will ship to home addresses as a matter of course.
Highway transports will take small pallets across the continent, but don't necessarily have warehouses available in all communities to allow individual client pickups. Nor are they allowed to deliver directly to residential neighborhoods ..
I'm sure you'd not appreciate a 48' tractor driving by your house.

Thus they are great if you live in a big town and have a business address to send your shipments to, but not feasible otherwise.
Thus, with the home delivery possibilities and economical brokerage fees, UPS is our typical venue for US bound shipments. The down side is that they do not handle any shipments over 8', so keep that in mind.
Each shipment must be priced out individually as UPS does not have a zoned based price list. Thus when we see your order, we weight it, get all the sizes of each package and request a quote. To give you a ball park here is an idea on some average shipping prices.. but remember we will get a specific quote for YOUR order as pricing varies significantly:
in the northeastern states for 14 steps (a standard run) is around $165.00
Central US: approximately $200.00
Southern and Western States: $300.00
PS:all prices in Canadian $$ so that saves you a little bit too!
For More Information:
You can fax over a drawing or email and we'll get right back to you with pricing. We custom make these in the sizes, shape and wood that you desire and wholesale them from our factory in the far north, not quite by dogsled but almost -- Sudbury, Ontario Canada.