SHIPPING: Custom Wood Stair Treads & Railings to Toronto, Ontario
Shipping hardwood stairs and railings to Toronto, Ontario is pretty easy. Most couriers have daily service from Northern Ontario.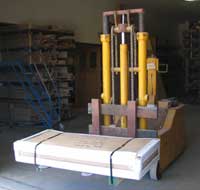 Apex Motor Express is no different. They bulk ship our hardwood stairs on an overnight truck to Toronto on a daily basis and so far we've had a zero damage record in the last 5 years.
We like the fact that we can put all your steps in one package with the vital edges protected on the inside. It can then be moved around with equipment and less likely to get dropped.
With Apex, you have basically two options, either pick it up at the depot, so you're not waiting in for the courier or have them deliver it to a local address.
Shipping To The Toronto or Brampton, ON Apex Truck Depot:
The Apex depot is at 60 Ward Rd , in Brampton, ON in the north west side of Toronto (see map below) and they can be held there for you to pick up.
Phone: 1-905-789-5001 (see map below, don't go by the old address on Wilson Ave. on mapquest)
Pricing: $80.00 plus taxes for up to 500lbs
(this is equivalent to more than 40 custom oak wood stairs or some multiple of steps, box newels and/or railings. even Toronto homes usually don't use quite that many steps

Direct to Home:
We can still use Apex to get your wood treads to a specific Toronto address, but they then transfer your treads to an "in-town" courier that will deliver to your house. Arrangements can be made directly with Apex once your hardwood steps and railings arrive in Toronto.
If you have a business address that you can use, Apex will deliver to a business address in Toronto proper for the same depot cost.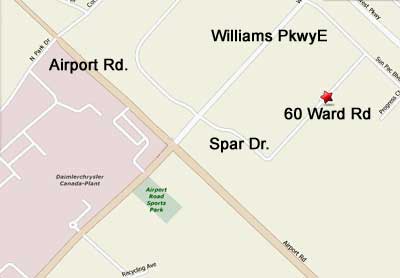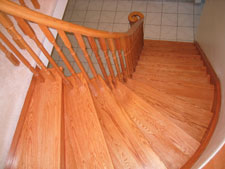 Here's a great picture of a set of custom oak wood stairs. Toronto client was an avid DIY'er.
They stripping the carpet off of the old set of curved steps and cut off the nosings. According to them, that was the hard work.
Then they created paper patterns and set them along via snail mail.
Two weeks later the treads arrived via Apex and they began work on refacing stairs with solid oak planks. One a night, I'm told.
There's a lot of pride now in what they have learnt and what they have accomplished, not even discussing how much money they saved.
"The stairs look amazing, we were raving about how the overhang on the steps really makes it look professional. Much appreciate all your professional service " ... Valerie, Toronto Ontario
More Information:
You can fax or email over a shopping list and we'll get right back to you with pricing. We custom make stair treads and handrail components in the sizes, shape and wood that you desire and wholesale them from our factory in Sudbury, Ontario Canada.