LACASSE FINE WOOD PRODUCTS: Store Front
Our showroom has been designed with you in mind, with Mirage hardwood flooring and multiple handrails installed to let you evaluate not only the quality of the products we make but also the aesthetics. When you see it in real life it makes it easier to know if any one particular design is what you are looking for.
We also have three sets of stairs, built using different techniques so if you have installation questions, it is much easier to show you how its done then just talk and flap our arms around. You know that story about "a picture is worth 1,000 words".. well this is even better than a picture.
We hope you'll visit!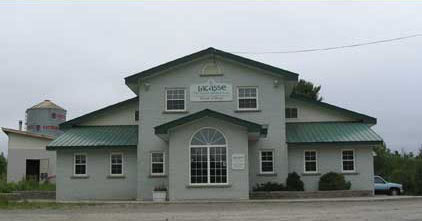 Store Hours: Eastern Standard Time
| | |
| --- | --- |
| Monday | 8:30 am - 5 pm |
| Tuesday | 8:30 am - 5 pm |
| Wednesday | 8:30 am - 5 pm |
| Thursday | 8:30 am - 7pm |
| Friday | 8:30 am - 5 pm |
Location & Driving Instructions:
RR3, 1100 Old Wanup Rd
Sudbury, Ontario,
Canada P3E 4N1

1-705-522-5728 (phone/fax)

1-877-202-7024 (toll free)

Driving Instructions:

NE corner of the Old Hwy 69 South (now called "Estaire Road") and Old Wanup Road, approximately 14 km. from 4 corners..

The new 4 lane 69 south highway has opened so you need to take the first exit called "Estaire Road", turn right at the stop sign and that will get you onto the OLD Hwy69S.

Travel approx. 4km and turn left onto Old Wanup Road, we're the second driveway on your left.

click here to get driving instructions from MapQuest™ .. but note they probably won't have the updated instructions.