MIRAGE BRAZILIAN CHERRY FLOORING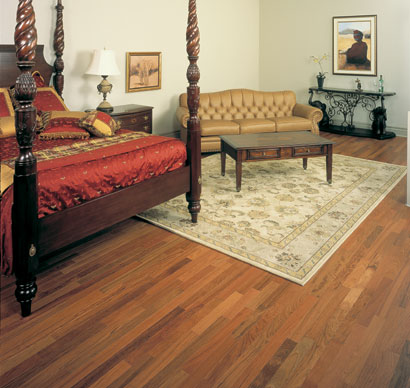 Mirage Classic 3/4" Solid Wood Floor: Brazilian Cherry (Jatoba)
Jatoba is a wood from South America and it is often referred to in the flooring trade as Brazilian Cherry. It is a charmer. Awesome deep rich orange colour and very dense so it lasts through whatever abuse you can throw at it. Since the colour goes right through the thickness of the wood, touch ups are real easy. A great hardwood floor if you have dogs! But it does have its issues at least based on my experience.
Dimensional Stability: average, thus flooring manufacturers must pay particular attention to quality drying & storage to assure it's stability. It is an extremely dense wood, and requires technical knowledge to fabricate effectively, knowledge that is often missing in production some off-shore products.
A significant number of consumers have had problems with Jatoba flooring, many I'm sure due to lack of proper drying and in applications where the environment is too dry for this tropical species.
Mirage no longer warranties even the engineered Braziian Cherry hardwood over in-floor heating. They have found the close proximity to frequent changes in temperature have caused frequent fracture cracks in the wood.
Durability: Dense and very strong
Janka Hardness Scale: 2350
(the higher the # the more dense)
Colour Variation: Very high colour variation from an orangy brown colour to almost black. Have a look at the picture at the top of this page again. Heartwood that is typically darker to start with, darkens with age. The lighter boards are typically from the outside of the tree and do not tend to age much in colour
Again in flooring make sure you have a conversation about colour consistency to assure that the product is in line with your decorating needs.. it can have a high degree of colour variation.
Colour change: Brazilian Cherry does darken with exposure to light. Flooring manufactures may include a UV protectant in their finish just as a matter of course, but many prefer to allow it to darken with age... that is part of the appeal to this wood species
Denting: Jatoba's density helps it resist many of the dents and scratches. Its extreame colour variation also goes a long way to disguise the defects it acquires through life. Its a pretty tough wood. You'll know as soon as you go to move a box of flooring :)
Click HERE to review other wood options
For more information..
visit our store, come see our products.. more info here
give us a call for more great info: 705-522-5728 Lacasse Fine Wood Products

NOTE: we can only sell Mirage flooring into the Sudbury District as a condition of our distribution agreement.