MIRAGE BLACK CHERRY FLOORING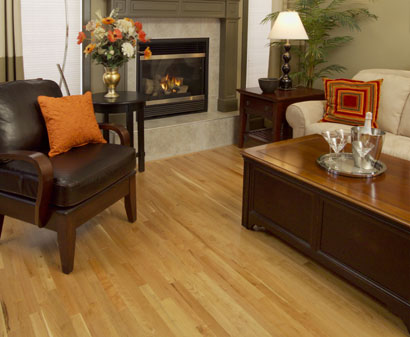 Cherry Mirage Classic 3/4" Solid Wood Floor: Natural Finish
Scientific Name: Prunus serotina
American Black Cherry is one of the finest North American furniture woods with a beautuful rich luster that gets darker with age. It can often have a curly or wavy figure that accentuate the beautiful colour. Its softness, denting more than most, is its downfall and undoubtedly why it has not found itself at the top of the pile as the wood of choice for hardwood flooring.
Dimensional Stability: Above average, more stable then red oak so great in more difficult environments
Durability:Excellent shock resistance but significantly softer then traditional woods used for flooring. It will dent relatively easily so be prepared.
Janka Hardness Scale: 950
(the higher the # the more dense)
Colour Variation: Cherry wood is probably my favourite of the traditional North American woods. Wood from the heart of the tree darkens to a beautiful reddy brown, often with a bit of a curly pattern. In cherry flooring you can also get boards from the outside of the tree that are more a pale straw colour and don't really darken with age. Be sure you know what colour variation to expect and that this is in line with your decorating desires and expectations.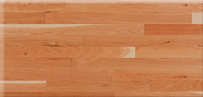 Cherry Hardwood Flooring
Colour change: Cherry can show significant darkening of colour on exposure to strong lighting, but since most clients are buying it for cherry flooring's rich lustre, flooring manufacturers do not apply a UV finish. They want to allow the wood to come to its natural shade... typically only takes a week or two under moderate sunlight conditions so if you move a rug, don't let it bother you... just wait a week!
Denting: Dents and Scratches can be quite obvious on a cherry floor due to it's softer density and more consistent colour with less grain pattern then say a traditional oak floor. Often flooring companies produce this in a satin finish to minimize the appearance of dents.
Click HERE to review other wood options
For more information..
visit our store, come see our products.. more info here
give us a call for more great info: 705-522-5728 Lacasse Fine Wood Products

NOTE: we can only sell Mirage flooring into the Sudbury District as a condition of our distribution agreement.