ARTS & CRAFTS STLEY BOX NEWELS
Box Newels: Custom Order Arts and Crafts Style
Here's a photo of a custom Shaker or Arts and Crafts Style Newel post that was made for a client in Sudbury, Ontario CA.
We started with a solid 3 1/4" square post and wrapped it with solid 3/4" maple panels that had been machined on a CNC router to make the square recessed panels in the center of the newel post. Thus the wood grain pattern in the recess, flows directly from that of the frame as they are one and the same piece of wood, with no seams. Staining becomes more predictable.
Overall size ended up being 5 3/4" with a 7" cap and trim added to the top.

Here's a few pictures of them installed. Not great photography but you get the idea. Our installer doesn't specialized in photography :) just in building great stairs.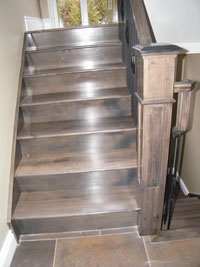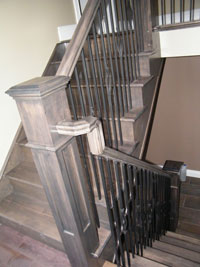 Here's a few of the more common options; size, with or without a cap, with or without coving or fluting. Download our PDF design guide for Box Newels as an aid in helping you figure out your preferences. If you don't find what you're looking for email us a picture and we'll see what we can do.. Karen