ROUND METAL BALUSTER: with Twisted Cage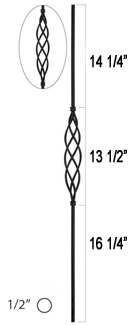 - 1/2" round tube, NOT Square
- 44" long
- long thin TWISTED cage to comply with climbability standards. The original basket was wider so they just stretched the design
- hollow so easy to trim to length with a traditional hacksaw
- round foot available if needed.
- we do have the engineered papers to comply with the Ontario Building Code Requirements for all clients that require a home inspection to get an occupancy permit. (At least in Sudbury, this paperwork is necessary with ALL metal spindles)
- We order in these spindles on a custom order basis and in the colour you would like, so please order 7-10 days ahead of your installation date, and if you would like some pricing remember to include quantity and colour
- In the picture above these spindles are install with two plain 1/2" round tubes and one patterned one.
Send us an email with your requirements for these metal balusters and we'll get right back to you with some pricing. If you do not live in or around Sudbury Ontario , make sure that you give us an address so that we can estimate the shipping costs as well as the product cost.
Here's some more information if you also require colonial or box newel posts or hardwood stair threads to complete your reno project.
Metal Spindle Colours Available: