MODERN BOX NEWELS, FLUTED OR COVED?
Box Newels for Interior Handrails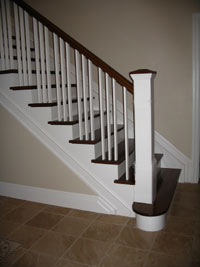 For years an interior railing was built with a traditional turned newel posts and matching turned spindles, but in the last few years decorating trends have moved towards more square posts with matching square spindles or metal balusters.
Here's an idea of what we have to offer. We do have a number of these railing options set up in our showroom to give you a better idea on what they would look like, once installed, so please do visit and we'll help you sort out what you need.
We typically carry ready made in-stock perfectly square posts 3 1/4" or 4 1/4" square in various woods and various lengths.
Red oak and hard maple are the two most common wood species we have used for box newels, but we have also made Brazilian Cherry, Walnut, Mahogany, Birch and Black Cherry...and a less expensive wood for painting applications. In fact we are pretty good in making these posts in just about any wood that we can find.. even tigerwood.
So once we have made the square posts we customize them to fit your needs, so here's a few of the more common options; size, with or without a cap, with or without coving or fluting. Download our PDF design guide for Box Newels as an aid in helping you figure out your preferences.
Recently we have added computer controlled equipment to our lineup of tools so we can now produce a very professional looking "fluted" post as well, so ask to see samples if this is a style that you would like to consider.
#3911 Square Newels: 3 1/4" x 3 1/4" x 48"

These are the basic square newel posts that we create as the starting point of all the various patterns you see below. We have made them in over 15 different types of wood so it is only a matter of asking and we'll see what we can do if you have a "weird wood" requirement. (cherry, walnut, tigerwood, mahogany .. you name it)
As houses get larger in Northern Ontario we have started producing a larger size Box Newel: 4 1/4" x 4 1/4" square, with all the same design options of its smaller cousin. Standard length is 48" but we also make lengths up to 8' if necessary for your particularly application.
Wood Species Available: Oak & Maple in stock, unlimited possibilities on special order
#3611 Square Box Newel with Angled Top + Coved Edges

3 1/4" x 48" square newel, with 45° Bevel cut top + coved edges (22" pattern). The coving eliminates some of the sharp corner to give better wear characteristics.
(4 1/4" made on special order)
Square Box Newel with Cap + Coved Edges

#3641: 3 1/4" x 3 1/4" x 48" Standard, (54" long made on special order)
#3741: 4 1/4" x 4 1/4" x 48"
They come with a cap added to the top of the post and a small moulding wrapped around the underside of the cap.
The 4 edges are coved for 22" in the middle of the post. Again, this helps to take the sharp edge off the corners that tends to take a little abuse from the vacuum hose and the toys of any younger occupants in the house.
But again if you would like the cap and not the coving, you just have to ask. We make them to order once we know your preferences.
OPTIONS: + SKIRT & MID-POST MOULDINGS

Square Box Newel with Cap + Fluted Faces

#3651: 3 1/4" x 3 1/4" x 48" Standard, ( 54" long on special order)
#3751: 4 1/4" x 4 1/4" x 48"
This post is similar to

the one above with the same cap on top, but instead of coving the corners of this Box Newel we have fluted them. Both pictures are actually of the 4 1/4" x 4 1/4" Box Newel.
OPTIONS: + SKIRT & MID-POST MOULDINGS
Square Box Newel: Special Order Arts & Craft or Shaker Style

We started with a 4 1/4" solid wood newel and then wrapped it with 3/4" thick panels that had been CNC machined with a recess in the center, to create an overall size of 5 3/4" square, with a 7" cap. (Arts & Craft Box newel Photos)
This method of creating a "recess" guarantees that the wood grain of the outside face exactly matches the grain pattern within the recessed section, as well since both sections are created from the same panel of wood, and are solid wood NOT plywood inserts they are more likely to stain consistently (PS: plywood does NOT stain the same as solid wood, which is why we made them this way, more work but better results)