1/2" ROUND METAL BALUSTERS
with one or two small round decorations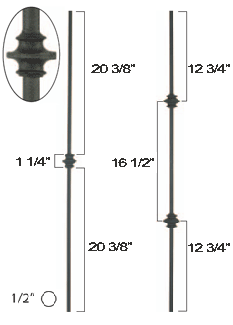 These spindles are 1/2" in diameter x 42" long hollow tube.

The hollow tube is easier to cut to length than solid bar
Round shoes are available for the base of this spindle, but totally optional. They would only be ordered for cosmetic reasons.

Typically with a square metal spindle, you oversize the installation holes to put a square peg in a round hole.. then a "shoe" or "foot" becomes necessary to cover the larger installation holes. With these ROUND bars, an accurately sized round hole can be sized to fit tightly to the wrought iron spindle, making the feet optional.
These metal spindles are available with one or two round decorations per spindle and quite often mixed with the plain round bars.
Send us an email with your requirements for these metal spindles and we'll get back to you with pricing and product options. Let us know if you also require wood newel posts or wood steps to finish off your renovation project. If you give us an address if you live outside of the Sudbury Ontario District, then we will also try and give you an estimate on shipping costs.
Metal Spindle Colours Available: