Curved & Returned Tread: Finished End
This tread is very similar to the "standard returned finished end tread" but with one slight curve shall I say??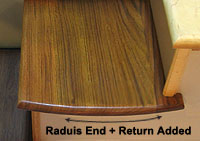 The end, instead of just being cut square, has been designed with a slight radius.
This is totally useless from a functional point of view, but rather it is all about class. It just adds that little bit of finesse and fine woodworking refinement for the wood connoisseur!
You do have to add a little extra in length to account for not only the standard overhang of approximately an inch but also enough to allow for a graceful curve. This usually equates to an overhang of about 1 3/4" in total.
Here's a general layout: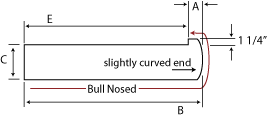 NOTE: the drawing shows a finished curved and returned end on the right.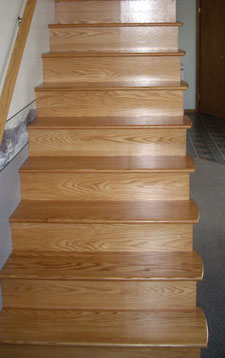 The photo on the right also shows a set of stairs that we recently completed with curved and returned ends on the right. The affect is subtle, but like most things in life, it is the small details that add that final bit of refinement and class to every project.
A = length of the overhang, sitting outside of the stringer. Based on our current template this is about 1 3/4". Just a slight curvature to add a bit of class, but not coming out too much to interfere with traffic or create a tripping hazard on the outside edge.
B = the overall length of the tread from one side to the other including the overhang
C = the standardized depth of the tread. This is usually 10 1/4" or 11 1/4" . This is based on a rough tread of 9" or 10" plus an extra 1 1/4" for the overhang giving you a finished depth of 10 1/4" or 11 1/4"
These are the measurements that needed to make sure we cut a "curved and returned" stair tread to fit your existing steps... we are the manufacturer so we can customize this to your needs and wholesale these treads directly from our factory in Sudbury.
You can fax over a drawing or email and we'll get right back to you with pricing. Don't forget to tell us what type of wood you are interested in.
Hi there, I am sending the pictures I promised. I am very pleased with your product Thank you once again.
It doesn't show on the pictures but the bottom step is 2 1/2" wider than the top one. The wall is off and the joist the stairs are hung from is also off. So each step was measured separately to fit. The risers are even cut on an angle along the wall to make them fit.
I will defiantly recommend your products to others.
... R. Frechette, Calgary Alberta