Alder Stair Treads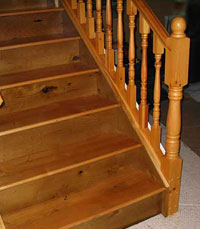 Alder is a rather plain white-to-straw coloured wood from the west coast of North America.
Its popularity is due to one flooring company from the west coast that retails a rustic grade flooring, some of which has been finished with black paint embedded in the knot holes and v-grooves to make an even more country-grade appearance particularly attractive to those individuals building a log home.
Like the hardwood flooring, alder lumber tends to have a few small tight knots, consistent with what I have seen in alder wood plank flooring. Knotty alder grade tending to be what is sold most often ..
Sometimes though, the small amount of wood available on the Eastern market can be entirely clear and quite boring in appearance. Thus hard to predict until the wood is purchased.
The picture to the right of a set of stair treads was our first attempt at making Alder stair treads.
These treads were abused with a bicycle sprocket, hammer and chain, spray painted with black tremclad paint, then re sanded to distress the surface and leaving paint only in the dents. This treatment was rather aggressive to get something compatible with the flooring.
They were designed to match a 3" alder wood plank flooring from Antique Impressions, imported by Creative@Home Inc., Vancouver. (as in picture below)


Photo: Hardwood Flooring: Knotty Alder
Alder wood is typically only available in 1" rough lumber, thus we typically end up with 7/8" thick treads (not the standard 1" thickness). Very straight grain structure, with a number of small tight 1/2" knots common in this species. Rustic Grade Birch Plywood was used for the risers in the picture above.
Alder wood texture is quite stringy thus it usually requires an extra sanding after the grain raises on the first application of finish, particular with water based finishes.
If you are staining your alder stair treads a more traditional colour, I'd probably suggest using hard maple or birch. Both of these wood species are easier for us to acquire, thus cheaper and come in full thickness to make traditional 1" thick stair treads.