STAIR LANDINGS
Installing wood flooring on landings between two sets of stairs...
When you are removing old carpet or vinyl tile from your steps and replacing them with hardwood stair treads, then you may also need to address the landing. You could use ceramic tile, or hardwood flooring left over from the main floor, but there are some situations where this is not the best or desired answer.
Here's a few ideas on how to solve the problem.
As you can see in the picture below, often you have a design with a few steps on the lower level and then a landing and then a few more steps to get to the upper floor... so the landing splits the full run of stairs.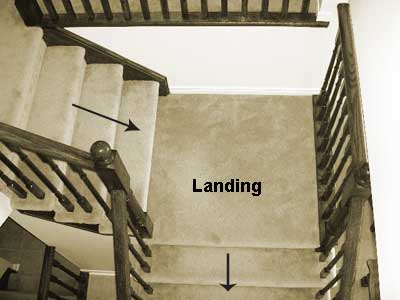 At Lacasse, we have started making 36-60" strips of hardwood flooring to match the lengths of our hardwood stair treads, to use in just such applications. It would be too difficult to custom fit one large piece of wood, so this gives you a way to create the same look without splicing pieces of traditional hardwood flooring across the length of your landing.
We can offer many different types of wood from African mahogany to Brazilian cherry on a custom order basis as well as red oak, white oak, birch and maple. See below, when and where this product might be a great answer.
But I'm getting ahead of myself. Let me share with you the two methods of applying wood of one sort or another to your landing and you'll see where one method might be better than another.
Step One:
Before installing wood flooring on your landing, your first consideration might be addressing the stair landing edge treatment. You want it to look exactly like your new stair treads.
Option A:
Your first choice might be to purchase a stair nosing from your hardwood flooring supplier and use this on the front edge. It is convenient and pre-stained to exactly match your existing hardwood flooring, but you may find you are limited to buy either a 3' or 7' length.
Option B:
Your second option might be to purchase an unfinished nosing from us, or your local millwork shop. Our nosings are made with the same 1" thickness as the stair treads to guarantee a good visual match.
#1800 (lacasse code) picture on the right
#1801 same as above but larger- 3 1/4" on the inside
Why? There is usually a greater selection of lengths to choose from, whereas prefinished moldings as suggested earlier are only available in a limited number of lengths and are quite expense.. Certainly this is true of Mirage Prefinished stair nosing.
What is the downside? You must finish it ... but then you already have to finish the steps to match anyway... so stain matching will be unavoidable somewhere down the line.
Step Two:
Now that you have solve the "front edge problem" you need to figure out what you are going to install from the back of the nosing discussed above, to the back wall. Again you can have a number of options from ceramic tile to real wood, but here we'll just discuss the "wood" options.
Option A:
You can use prefinished flooring on the landing to match the hardwood flooring you have installed on the main floor .
This is a convenient option, especially if you have some left over from the main hardwood flooring installation.
The downside is that in a situation like in the picture above, where a landing is caught between two sets of stairs, if you have difficulty getting the stain for the steps above and below the landing, to exactly match the rest of the hardwood flooring then installing more of your prefinished hardwood in the middle of your steps will only accentuate the "off-colour"... we have a better option.
Option B:
Consider buying specified lengths of unfinished hardwood flooring.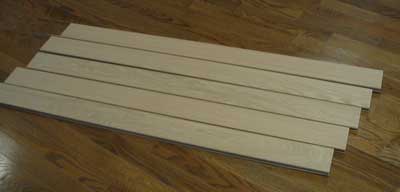 All Flooring tongue and groove on the sides, 36" - 60 " long pieces
We have just started manufacturing unfinished hardwood flooring in lengths to match your stair treads for installation on wood landings.
In other words we ship lengths of hardwood flooring that are typically between 36" and 54" long.. or whatever you need to cover the landing with hardwood flooring continuously from the right side to the left. In this way, you will not need to splice any of the flooring and it will end up looking almost exactly like your treads.
The biggest advantage is that then you can stain all your steps, nosing and the unfinished flooring for your landing at the same time..... everything in your hallway will then match.

Note: in situations where your hardwood flooring is "natural" i.e.. no stain is used to alter the natural colour of the wood, then just use prefinished flooring, as a less expensive option.
Using our unfinished lengths of hardwood flooring is only an advantage when you are dealing with the challenge of stain matching.... or you want all full length segments of flooring.
Do email or fax in your requirements and we will do our best to help you along your way. We are a small company and take the time to find out your needs and recommend the best solutions.