Mahogany Stair Treads
Mahogany is the most confusing wood of all native and exotic species.
This is true mostly because "mahogany" is the largest family of trees and thus offers so MANY varieties that are commonly available for purchase. They range is colour from pale grey to deep reds and oranges, some with awesome figures and some quite boring and more suited to paintable products.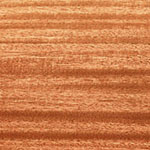 Some mahoganys are extremely dense and others are light and stringy like basswood. Some are called mahogany and are NOT really a mahogany at all. Some are called mahogany and then the side bar includes a note that says "but NOT a true mahogany".
So I guess the reason that i share this with you, is to give you an appreciation of the difficulty in matching a generic description of "mahogany wood" with a wood floor that is also described generically as a mahogany hardwood flooring.
But to get you started here's a review of a few "types" of mahogany that we have worked with so far. We have used the african mahogany to match with Mirage Sapele floors and the Santos for the Mirage Santos Mahogany floors.
If you don't see the wood you are looking for give us a ring. Custom shapes of hardwood stair treads, made out of a full variety of wood species is our specialty!
African Mahogany Stair Treads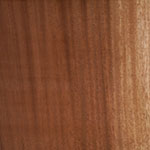 African mahogany has to be one of my most favourite wood species. It has a beautiful rich brown grain and can have reversing bands of colour in line with the old ribbon stripped mahogany sheeting. The extent of ribbon stripping is a function of HOW the wood is cut from the tree. (see the picture above)
We use this species of mahogany to produce hardwood stair treads to match Mirage Sapele hardwood flooring, given that Sapele is a more difficult and expensive exotic wood species to put your hands on.
The colour match is close particularly because both sapele and African mahogany as with most exoticl woods have a range of intensities and shades ... unlike a stained floor that tends to be more one consistent colour.
(you can see this in the two mahogany pictures to the right.. the top one is much orange in tone and the lower one is much browner.. a common occurance in the various types of African Mahogany)
Santos Mahogany Stair Treads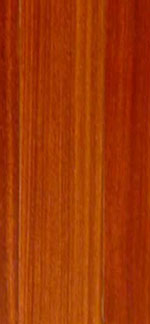 Santos mahogany is a truly gorgeous wood with rich rosy streaks mixed with some bands of colour that border on the colour of toffee. It has a relatively fine grain and sands and finishes to a wonderful sheen. It is somewhat more colour consistent than Brazilian Cherry, at least what I have seen, and more red than orange.
It is particularly dense so even the dog will have a challenge to leave his mark! It tests at a Janka rating of 2200, only slightly less than that of Brazilian cherry at 2300, making it almost twice as dense as our traditional red oak.
As rough wood, it can be somewhat aggresive in twisting, thus requires special care in processing, but is worth the extra effort given it's beautiful rich colours. This does suggest though, that treads should NOT be left unfinished, but rather finished and installed shortly after purchase.
The wood is typically only available in standard 1" rough-thickness stock, so often it is only possible to make 7/8" thick santos mahogany stair treads, rather than the more traditional 1" thickness. This doesn't really create a problem! Given its density and strength, the thinner tread never creates a structural concern.
Here's a picture of a santos mahogany tread to the right, to give you an idea on colour and grain pattern....